The National Open University of Nigeria (NOUN) is a federal open and distance learning (ODL) institution.
It was created in July 1983, as the first of its kind in West Africa, but was suspended by the Nigerian government in April 1984. It would take until 2001 before it was resurected by the Nigerian President Olusegun Obasanjo, and NOUN has now been open to students since 2002.
Today, it is Nigeria´s largest tertiary institution in terms of student enrolment, and all courses offered by the university are accredited by the National Universities Commission (NUC).
The student body is chiefly comprised of mature students, but in recent years the proportion of undergraduates in the 17-25 age bracket has increased significantly.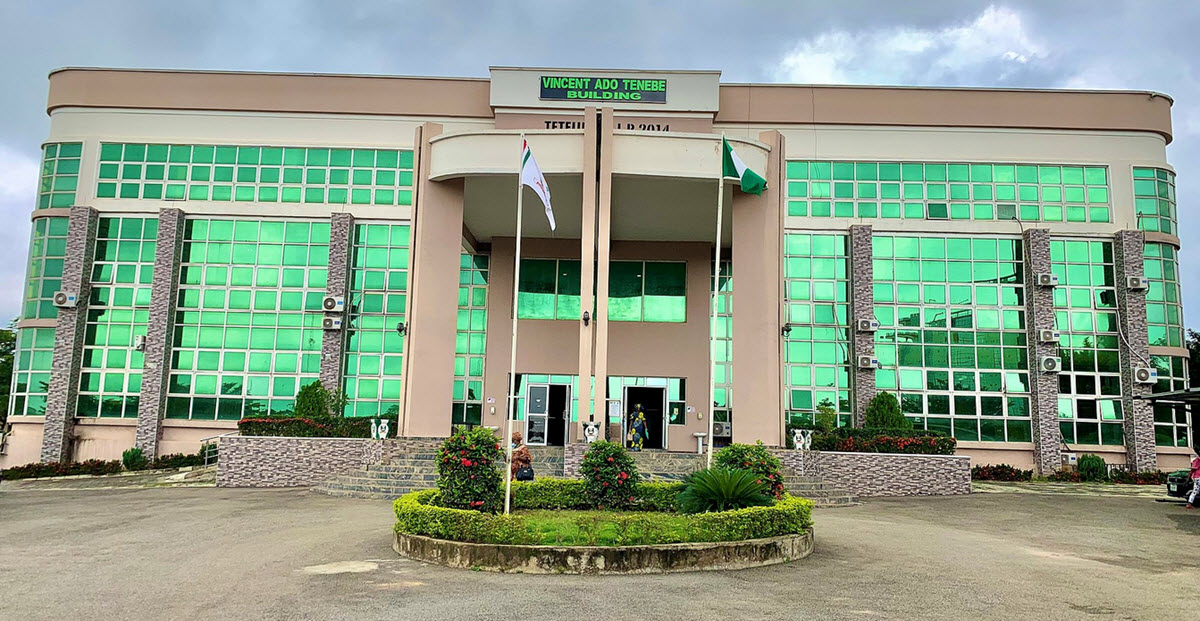 Short facts about NOUN
Headquarters
Abuja, Nigeria
NOUN used to be based in Victoria Island, Lagos, but was moved to Jabi, Abuja in 2016. (Lagos used to be the capital of Nigeria, until December 1991 when Abuja became the capital.)
Colours
Elft green, cadmium yellow and ruby red
Affiliations
The National Universities Commission (NUC)
Association of African Universities
Academics
The National Open University of Nigeria offers around 750 courses and over 50 different programs.
NOUN has its administrative centre in the neighbourhood Jabi in the city Abuja. In line with its focus on distance learning, NOUN has over 75 study centres throughout Nigeria to make distance learning more accessible to students. Not all study centres provide classroom lectures, but some do. The study centre in Lagos does for instance provide in-person lectures for law undergraduates.
Open admissions policy
One of the pillars of NOUN is to make university education accessible to a wide range of the population.
For most courses, a student will be eligible if they can study at the appropriate level, and national diplomas may qualify for direct entry admission.
For most post-graduate courses, a student is eligible if it can provide evidence of adequate previous study or equivalent life experience.
The iLearn portal
The iLearn portal give students digital access to the university´s educational resources, such as:
Video and audio materials
Assignments, quizzes and self-study assessment tools
Online class discussions organized by NOUN facilitators (Virtual Classroom Environment)
Academic support for students
Social networking and other collaborations between students, faculty members and facilitators
Examinations and assessments
For first and second year students, the university uses computer-based testing (CBT). The exception is law undergraduates, who must complete conventional pen-on-paper (POP) exams.
The CBT examinations at NOUN come in two formats: multiple-choice questions and fill-in-the-gap questions.
From the third year and onwards, students must complete pen-on-paper exams instead of CBT.
Post-graduate students must complete pen-on-paper exams.
Tutor-marked assignments (TMAs) are completed continuously and the results account for 30% of the student´s total score. The student must answer and submit all the TMAs before being allowed to sit for the end-of-course examination. The result of the end-of-course examination accounts for 70% of the student´s total score.
The NOUN e-library
All NOUN students with a valid student card have access to the NOUN e-library.
NOUN e-Courseware Free Download
This is a platform for students who need to access the NOUN database of educational materials. E-books can be downloaded in PDF format for free from this platform.
NOUN FM
The NOUN FM radio station broadcasts on workdays.
Union ban
The Act of Parliament which established the university prohibits any form of union for staff or for students. This has kept NOUN going even during the many long-term strikes organized by The Academic Staff Union of Universities (ASUU), a Nigerian union of university academic staff.